Also on this page: Habitat
|
Water
|
Trees
|
Shrubs and Perrenials
Our Wildlife Gardens
We like to make our gardens and woods as wildlife friendly as we can. We operate a no spray policy on all gardens and instead use the "right plant right place" approach to gardening. We plant slug resistant and drought tolerant plants and a range of flowering shrubs and perennials for year round colour and for picking for vases. You may be interested to read our round the year observations in our Nature Blog.
Habitat
Log piles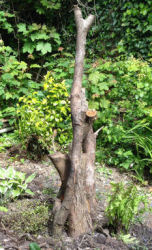 Log piles make a brilliant habitat for all sorts of creatures, from hedgehogs to invertebrates and shelter for small mammals. These are easy to incorporate in the garden.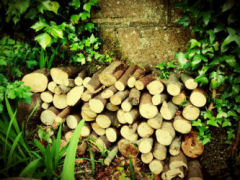 We have several log piles around both of our sites. We introduce new piles most years, so that they are at different times of decay. We also have open compost heaps, some for tops and brush wood, some for leaf mould, some for general weeds. These different heaps also provide shelter and food for wildlife. This year at Hayle we also made a stumpery, which is a variation on the log pile theme; the base of the stumps are buried and logs of different heights are arranged upright to provide a good house for beetles.


Habitat boxes and hotels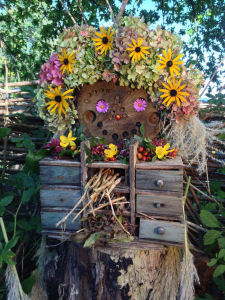 These include bird boxes, bat boxes, hedgehog houses and bug hotels, all of which feature in our gardens and are well used. Bug hotels are great fun to make and can use anything you have lying around; old pallets, bits of brick.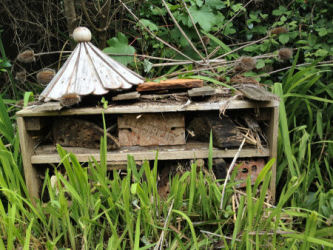 Top Tip - a piece of wood with holes drilled into it will make a great home for solitary bees and other flying insects.
Brown Roof
In St Germans we have a brown roof on our bike shed, made with substrate, crocs and poor soil. This will provide a habitat for burrowing beetles, bees and spiders. We've planted a few sedums, but the roof will naturally self-seed and vegetation will grow and die according to the weather, thus needing no watering.
Mini Meadows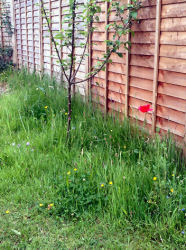 We've left long grass areas in each garden. To this we have added pollen rich flowers; scabious, field poppies, yarrow, dog daisies and spring bulbs.



Top Tip - long grass allows small mammals to hide, and makes a good hunting ground for larger predators such as owls.
Water
In St Germans we have two wildlife ponds. Harvey has a brand new pond at the end of the dry drainage ditch which is rapidly being naturally colonised with water plants and wildlife.

Top Tip; Even a little pond the size of a dustbin lid has good wildlife value.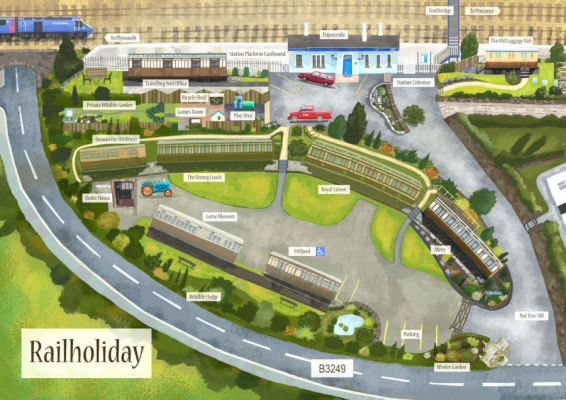 Trees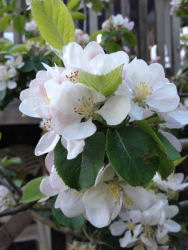 We have a good range of both fruit and other trees in our gardens. In St Germans we have a total of 9 apple, two almond, two walnut, several cobnut, three pear, two plum, two cherry, apricot, crab apple, medlar and fruiting quince trees. We have oak (excellent for invertebrates and moths), willow, ash, sycamore, sorbus and spindle in our gardens. There is a variety of mixed broadleaf and conifers in our ten acres of woodland. Several of our trees and hedging plants have been kindly funded by our guests as part of our carbon offsetting scheme. These trees are bought in addition to any other planting, thus funding planting that could not otherwise have taken place. For more details please visit our Tree Page.
Hedges and fences
Each site has wildlife hedges; we are currently using money from our carbon offsetting scheme to continue the hedge planting around our woodland. So far we have planted over 600 hedging whips; a wildlife mix of field maple, hawthorn, blackthorn, bird cherry, guelder rose, wild rose, dogwood and hazel.

We particularly love the hazel fences Lizzy's Dad, Tony Lister, makes in St Germans (and Lizzy has attempted a short one in Hayle). These are made from hazel coppiced from Frankie and Tony's cob nut plantation. Other fences are made from sustainably sourced tantalised wood.

Copses
Each of our sites has a hazel copse, which will eventually create a gentle shaded hideaway, providing nuts for small mammals through the winter.

Top Tip - growing trees, shrubs and perennials of different sizes in your garden is very beneficial to wildlife.
Shrubs and Perennials
We have particularly focused on pollinator friendly planting, and have shrubs and perennials for year round flowers; great for wildlife and flower arranging alike.


Positive Pollinator planting - butterflies, moths and bees are a fundamental part of our garden interest. We include plants that are especially beneficial; willows, oak, buddleja, lavenders and more. A great measure for how bee friendly your garden is, with tips for increasing the attractiveness to bees, is Beekind Plant Finder. We are proud to say that our gardens in St Germans score 6,594 and in Hayle 4,287, which we plan to build on in the next few years.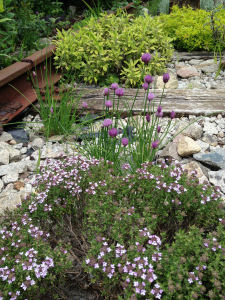 Herb Gardens - on each site we have a large herb garden, which is great for cooking with, as well as providing excellent drought resistant pollinator friendly borders. In St Germans our herbs include chives, thyme, fennel, rosemary, oregano, marjoram, winter savoury, hyssop, sorrel (it may look like a dock, but it's not!) artichoke, sages, parsley, curry plant, angelica and lavenders.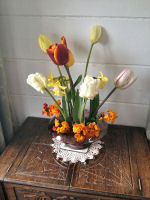 Year round flowers - in St Germans we've tended to group our different beds so each is spectacular at a different time. The following plants are particularly good in each season:
Winter - hellebore, dwarf comfrey, viburnum tinus, viburnum bodnatense Dawn, winter flowering camellia, winter jasmine, spotty clematis, crocus, anemone, snowdrops, dwarf hyacinths, ornamental quince, rosemary, viburnum tinus.
Spring - osmanthus, daffodils, tulips, crocus, forget-me-nots, viburnum burkwoodii, camellias, hyacinths, bluebells, wild garlic, wood anemone, scilla, fritillaries, bugle, celandine, Lily of the valley, azaleas, fruit trees, rhododendron.
Summer - wild flowers including campion, bluebell, buttercup, cow parsley, scabious, poppies, lots of herbs including sage, thyme, fennel, mints, angelica, valerian, hysopp, winter savoury, catmint, roses of all kinds, iris, geraniums, centuary, dicentra, sweet william, phlox, alchemilla, cotoneaster.
Autumn - asters, sedum, dahlia, mahonia, autumn flowering camellias, Japanese Anemones.
Two great resources for pollinator plantings are produced by the Royal Horticultural Society; Perfect for Pollinators Plant List and Perfect for Pollinators Wildflowers Plant List.

And the best thing of all is that we have beautiful flowers for our vases all year round!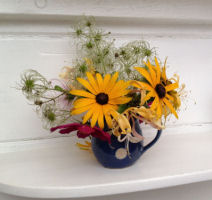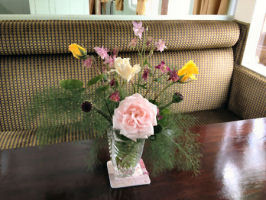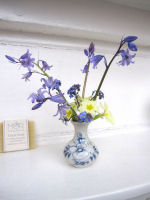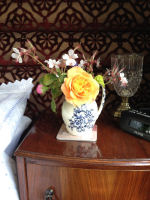 Our Pinterest Wildlife gardening page has lots of ideas for things you could do to create habitat at home. Here is the link to our Pinterest Board.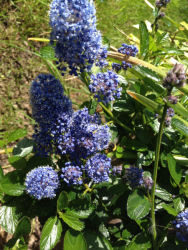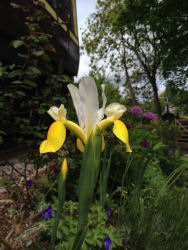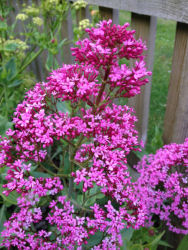 Back to TOP

Contact Railholiday by email at office@railholiday.co.uk or by phone on (+44) 01503 230783. ©