Also on this page: Hayle
|
A Year of the best Cornish Food
The Railholiday Food Page
St Germans Area
The following recommendations are less than five miles away from St Germans, a little further down the page you'll find a selection of excellent eateries accessible by public transport, followed by other recommendations within a twenty mile radius. We feel there are enough excellent choices nearby not to have to travel. I'm sure you will agree. For fish - head to Looe as most restaurants here buy their fish straight off the boats. You couldn't wish for fresher than that!

Should you need it, we recommend the local taxi service Ant's taxis - 07788 900222.

In the village of St Germans itself, the Eliot Arms (01503 232887) does pub food and a Sunday roast.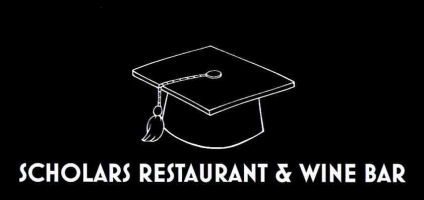 Even closer to your rail carriage home is Scholars, a wine bar and restaurant that is open every day but Mondays for lunches and evening meals, with regular specials nights, including cheese and wine tastings, live music and more. They also offer an exclusive service for Railholiday guests; food delivered to your carriage door on china plates at no extra cost. Call 01503 230600.

Arriving on Monday night, you couldn't get better than popping down to the village hall for takeaway fish and chips from Ahoy's mobile van. They visit the village between 12 and 7pm every week.

A mile walk down the hill to the hamlet of Polbathic will bring you to the excellent Halfway House Pub (01503 232 986, PL11 3EY). The price is reasonable and the quality of the food absolutely top notch; and there is a community library in the back room should you fancy stopping for a long leisurely read. Locals and staff are lovely, live music on most weekends. Roast on Sundays served until 7pm, all other days there is food at lunchtime and in the evening. If you are walking, take care on the main road down to Polbathic as it can be quite dangerous. We would advise walking along the bridleway along Longfield and then left down the steep lane to Polbathic.

In the neighbouring village of Tideford is The Rod and Line (01752 851912), a highly recommended culinary pub, that offers an excellent dining experience and a roaring log fire - think fresh crab and scallops, goats cheese salad and game stew in season. The pub is small and spit and sawdust - always friendly and full of surprises, with live music most weekends and often during the week too.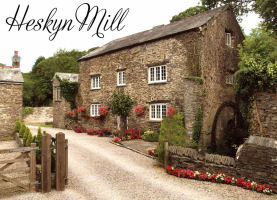 For a special dining experience in a lovely setting we recommend the fine dining restaurant Heskyn Mill (01752 852127, PL12 5BG). This is less than two miles away, just before the junction onto the A38. Heskyn Mill uses locally sourced meat and fish, and the welcome is always friendly. Sample menus are available on their website.

For the American dining experience head two miles up the road to Trerulefoot to Route 38 (01752 851038, PL12 5BL) - big portions, family friendly and a great place for fried breakfast - and a pleasant walk away during the day along country lanes. Also at Trerulefoot is a cafe at Kernow Mill (01752 851898, PL12 5BL) and a carvery and restaurant The Windy Ridge (01752 851146, PL12 5JB) offering delicious Sunday roasts with a very child friendly attitude.

On the coast only four miles from St Germans is Downderry, where a choice of dining is to be had at The Blue Plate and The Inn On the Shore (01503 250027, PL11 3JY). The menu is on the pricey side and the choice not wide (especially for vegetarians) but the food is cooked beautifully. A great new cafe that does cater well for vegans and vegetarians, as well as offering gluten free, is Summick Different. New for 2018, we've not had a chance to try it yet, but friend's reports have been very good.

In the neighbouring village of Seaton for chips or roasts during the day try Seaton Beach cafe. There are tables outside, with woodburning stoves scattered around for a little extra warmth and the service is pleasant and dog and child friendly. Also at Seaton is Waves Bar (01503 250065, PL11 3JD). You can walk here from Hessenford, which is on the bus route. Hessenford also has an excellent pub with children's play area The Copley Arms. Regular open mic nights and live music are also a feature at the Copley.

During the day Vegans and vegetarians will find a tasty selection of food at the Wild Futures Monkey Sanctuary, at St Martins, at the top of the steep hill above Seaton.

Heading along the coast road from Downderry towards Rame Head and Whitsand Bay, there are several eateries of note. The first is at Crafthole - at the top of the hill is the Finnygook (01503 230338, PL11 3BQ). Further along the coast above Tregantle Beach, Whitsand Bay is The View restaurant, which is fabulous for fish and a wonderful view when the sky is clear. Also nearby is the Cliff Top Cafe, which serves cakes and light lunches, perfect for a breather when walking along this beautiful bit of coastline.

Continuing onwards, two cafes of note are in Kingsand/Cawsands. Our favourite is The Old Bakery, otherwise known as Morans, (01752 656215) selling home baked bread and cakes on the high street between the two villages. The second is Maker Canteen, high above the villages in what was once an army bunker area, but is now a wildlife reserve. The Shop in the Square in Cawsands offers tasty fish and chips and homemade pasties.

If you find yourself on the Rame Peninsula it is worth popping into Millbrook for the well stocked health food shop and cafe Widdicombe Fare (another excellent place for vegans), or to pick up Fish and Chips.

On the way to Liskeard at Menheniot Station is The Hayloft (01503 240241, PL14 3PU), a charming converted barn. Due to the poor number of stopping trains at Menheniot it is not possible to access the restaurant by train.

Restaurants by train from St Germans; Saltash, Liskeard and Looe
Saltash has a great choice of takeaways and a range of character pubs offering live music. It is only seven minutes by train and the evening service is quite good; although keep an eye on the clock as the last weekday train returns at 10.55 (and slightly earlier on a Friday).
Cafes - Head up Fore Street for plenty of choices; Codfathers, the Fish and Chip shop, is good, there is a pleasant cafe in the bookshop on Fore street and Caffe Corradi is a little Italian cafe set back from the road at the top of town.

Pubs and Restaurants - Saltash is well served for Indian food. There are two Indian restaurants on Lower Fore Street, close to the station, both recommended; The Saltash Tandoori Restaurant (01752 848194) and The Blue Moon (01752 840404). We've had a super meal and takeaways from the Super Bowls Asian Restaurant at the top of Fore Street (01752 845050).

Beside Saltash station, bedecked in a cruise ship fashion, is the characterful Two Bridges pub that offers pensioners lunches and various theme evenings, often involving steak. If you don't choose to eat there, it makes an interesting port of call before returning on the night train. Head down the steep hill from the station to the waterside and you will see The Union Pub, with the giant flag painted on the front. This pub does not serve food, but offers a fine selection of ales and live music most nights and will let you bring your fish and chips into the pub. During the day you can sit at the tables outside and watch the boats go by (or if you have children take them to the super little play park on the riverfront).

Liskeard is cafe central - you will never want for food in the daytime. It has the bonus of the best vegetarian/vegan cafe around; The Liskerrett Centre serves morning coffee and cake, then lunch until 2pm, cakes until 4pm, on Mondays to Thursdays. Another vegan/ vegetarian cafe that is highly recommended is Olives. Also recommended are Bean, Fat Frog, Seasons, Koffiji Lounge, (01579 344880) and the market car park cafe, surely the friendliest and best place ever for a traditional greasy spoon breakfast. A little walk from the centre at Goldenbank Nursery is cafe Fleur, a little place of calm, PL14 3PB.
There are two restaurants of note in Liskeard. For a fine dining special occassion Tapenades, PL14 4AA - (01579 344844) is an intimate restaurant offering top quality food and service. If you'd like to visit this restaurant during your stay we reccommend booking several weeks in advance as it is justifiably popular. Our restaurant of choice with the family was undoubtedly Daddios, which was super friendly toward the children, adaptable and consistently good. However this has recently changed and is now a pizza and kebab house serving takeaways. We have yet to try it. Let us know if you do!

Looe has an excellent selection of cafes and restaurants. To eat out in the evening you will need to order a taxi home, as the latest connection back to St Germans is before 8pm. We have included a couple of suggestions below, but there are so many places to eat in Looe, and quality goes up and down so quickly, our recommendation would be to wander and take your pick, or look at Trip Advisor or Google.

Our personal favourites are Mama Js, a pizza parlour and Zute Bar, an Italian inspired Restaurant and Cocktail bar in the heart of Looe that often has live music. We also like Daisy's Cafe up Castle street, which is very welcoming of families and dogs.

Calstock - Having thoroughly enjoyed an excellent meal at the Tamar Inn, 01822 832487, the village of Calstock is well worth a visit for food, and there's often lots going on in this thriving artistic community. There are also other places to eat in Calstock, and it is wonderful as a place to walk from. The connections for this line are pretty abysmal, so it would be worth combining it with a couple of hours shopping in Plymouth.

Plymouth is the nearest big city to St Germans and has plenty of places to eat, and top recommendations will inevitably change frequently. At the moment you can't go wrong by heading to the newly refurbished smart Royal William Yard However this is not terribly convenient to the station and will take a minimum of forty minutes to walk there.
Take Aways
By train we would advise going to Saltash, where there are a range of takeaways along the high street, a very good Fish and Chip shop, two Indian takeaways and two Chinese. If in Liskeard, there is a Fish and chip shop on the main street, two Chinese takeaways, one of which is on the road to the station, the other is tucked in a back street behind the Eliot House Hotel. There is also a Nepalese takeaway, Ghurka Tandoori at the very bottom of town and two other Indian takeaways.

For fish and chips, head to Looe and choose from Dave's Diner, (PL13 1AQ, 01503 262341 / 262351) eat in or takeaway Fish and Chips by the quayside, Hampsons Fish and Chips and Kelly's Fish and Chips. On the road to Looe is the Coddy Shack, which is very well recommended.
Pasty Shops
One of the best place to try pasties in South East Cornwall is in Looe. Try The Cornish Bakehouse or The Pasty Shop, also known as Sarah's Pasties. In Liskeard we recommend Barnicotte's pasties, while the pasties at Paul Brays, the local butcher in Tideford are also very good.
Farm Shops, Farmers Markets and Delivery Services
For food delivery of fresh, locally produced produce, we recommend Food4myholiday - (01503 240992).
Paul Bray & Son, Tideford, PL12 5HH - Tel: 01752 851224 - One of Keith Floyds heroes, our most local butcher offers local quality meat and accompaniments.
Camel Valley Vineyard - Tel: 0120877959 Nanstallon, Bodmin, PL30 5LG - wine tastings and guided walks available through the year. From Easter Monday - Friday 10.00am - 18.00pm Sat & Sun. 12.00 noon - 18.00pm.
Lostwithiel Farmers Market, Lostwithiel - Tel: 01840 250586 - Every 2nd Friday from 10:00 to 14:00 at Lostwithiel Community Centre.
Pensilva Farmers' Market, Pensilva - Tel: 01579 362995 - Second Saturday of every month from 09:30 to 12:30. Seven to eight stalls selling a full range of local produce, at The Sports Hall, Millennium House. Contact: Vanessa Jones.
Pengelly's Fishmongers, Liskeard - Tel: 01579 340777 and b>Looe Tel: 01503 262246 - perhaps the best fishmongers in the country, these two shops run by the Pengelly sisters are listed as being among Keith Floyds Food Heroes. Hand picked fish from small boats landing in Looe. Closed on Mondays.
Purely Cornish, The Farm Shop: St Martin-by-Looe, PL13 1NX - Tel: 01503 262680 and The Deli: Bullers St, Looe, PL13 1AR - Tel: 01503 262696 - The place to find an outstanding range of locally produced goodies with over a hundred different lines from Cornwall. As well as the Farm Shop there's also the Courtyard Coffee and Juice Bar. Purely Cornish also recently opened a Deli on Bullers Street in East Looe.
Truro Open Market, Truro - Tel: 01326 376244 - Every Wednesday and Saturday from 09.00 to 16:00 on Lemon Quay Piazza.

Hayle
In Hayle it is difficult to know where to start with suggestions of where to eat. You'll be spoilt for choice, from fine Italian dining to top notch fish and chips. Below is a little information on just some of the hundreds of places to eat and source food local to Harvey. If you have a favourite restaurant you'd like to recommend, please let us know.
Restaurants & Cafes
Just below the carriage at Harvey are some super places to eat - you won't need to look far! There are too many cafes to mention them all, but children will love Mr B's Ice Cream parlour, while you will find home made cake and a warm welcome in Duckie's cafe in Foundry Village and the Gallery Cafe tucked up beside Spar. Johnny's cafe offers vegan and vegetarian food, free wifi and a health food counter.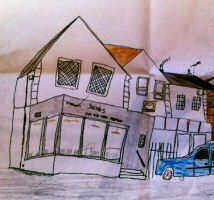 Restaurants include the fine dining Antonios (voted top restaurant in Hayle on Trip Advisor) and Sanders Fish and Chips (excellent Fish and Chips - always one of the highlights of our stay at Hayle), as well as Salt, a modern continental bar serving fresh produce and fine beers, with free wifi and frequent live music. The White Hart Hotel offers a good value Sunday roast with all the trimmings in art gallery surroundings. The Curry Leaf Restaurant - Hayle, TR27 4BQ - Tel: 01736 755300 is run by Syed Hossain, well known in Hayle for the quality of his fresh spicy food, is also in the Foundry square end of Hayle less than 50 metres from Harvey and does takeaways as well as sit in meals. Follow the river road towards the Copperhouse part of Hayle and you'll come across the Italian Kitchen, which is very welcoming of families. Another very good Fish and Chips takeaway is Mrs Hubbards (01736 753710); turn right at the bottom of the hill.
While we can recommend all the above, we have not been able to try out all Hayle has on offer, so below is a list of more suggestions.

Balti King Tandoori Restaurant - Hayle, TR27 4DX - Tel: 01736 752001 - A real different experience at the Balti King, Syed Hossain is a man who insists on quality. Freshly roasted and ground spices, top quality produce, wonderful lighting and furniture. Very busy in summer so book ahead.
Cornubia Hotel, The - Hayle, TR27 4DX - Tel: 01736 753351 - Affordable restaurant area aimed at families. During the winter months an inviting log fire creates a warm homely atmosphere. Food served: Lunch and Evening meals.
Godrevy Cafe - Gwithian, TR27 5ED - Tel: 01736 757999 - This cafe has something for everyone, with stunning views of St Ives Bay, a light and breezy wooden chalet interior and stacks of outdoor seating on the deck and patio.
The Jam Pot Cafe - Hayle, TR27 5BT - Cafe & beach shop in a listed Cornish Round House.
The Lamb & Flag Inn - Hayle, TR27 6LU - Tel: 01736 753289 - First class food cooked from all fresh ingredients.
Mr B's Ice Cream Parlour - Hayle, TR27 4BQ - Tel: 01736 758580 - Delicious ice-cream made on the premises. Eat in or take away.
The Italian Kitchen - Hayle, TR27 4DE - Tel: 01736 753745 - Pleasant restaurant serving pizza, pasta and other Italian specials. Child friendly. Outdoor waterside eating area.
Rosewarne Manor Restaurant - Connor Downs, TR27 5JQ - Tel: 01209 610414 - Using locally sourced produce, Rosewarne Manor offers a menu that changes with the seasons. With several seating areas and an overall capacity of approximately 140 persons, plus additional al fresco seating in fine weather, Rosewarne Manor is sure to meet your needs. Open from midday, food orders until 9pm.
Salt - Hayle, TR27 4HH - Tel: 01736 755862 - Cafe/Bar, open all day. Coffees, cocktails & fresh cooked food.
The Smugglers - Hayle, TR27 6EG - Tel: 01736 850280 - A warm and welcoming restaurant with jazz every Sunday lunchtime.
Sunset Surf - Hayle, TR27 5BT - Tel: 01736 752575 - Licensed beach cafe & surf shop.
Thai Chef - Hayle, TR27 4DY - Tel: 01736 757671 - Authentic Thai food. Bring your own wine. Takeaway available.
Trevaskis Farmhouse Kitchen - Hayle, TR27 5JQ - Tel: 01209 713931 - Delicious home-cooked food from own produce. We ate here in 2014 and it was excellent. Farm shop.
The Watermill - Hayle, TR27 6LQ - Tel: 01736 757912 - Great pub food, beer garden & a la carte restaurant.
White Hart Hotel - Hayle, TR27 4HQ - Tel: 01736 752322 - Traditional cooking as well as pub food.

Public Houses
Angarrack Inn - Hayle, TR27 5JB - Tel:01736 752380 - This pub has a warm and friendly atmosphere complete with log fire in the winter.
Bird In Hand - Hayle, TR27 4HY - Tel: 08719 170007 - Pub food and Real Ale brewed in house. Live entertainment and big screen TV. Right beside Paradise Park - so you can enjoy both together.
Bucket Of Blood - Hayle, TR27 5AE - Tel: 08719 170007 - Pub in Phillack on the outskirts of Hayle, with a warm, lively and friendly atmosphere.
Cornish Arms - Hayle, TR27 2DJ - Tel: 01736 753237 - Well known for excellent food and the highest quality cask ales. Has annual summer flower display. Food served: 12.00 noon - 2.00pm and 6.00pm - 9.00pm everyday.
The Old Quay House - Hayle, TR27 6JG - Tel: 01736 753988 - First class pub food & spectacular bird-watching.
Red River Inn - Hayle, TR27 5BJ - Tel: 01736 753223 - Real ales, beer garden, restaurant with home-cooked food in a Victorian Ale House.
Star Inn - Hayle, TR27 6HP - Tel: 01736 755068 - Real ale & good food in an award winning village pub.
Turnpike Inn - Hayle, TR27 5DT - Tel: 01736 752377 - Pub lunches & dinners, including Sundays.


Take Aways
Sanders Fish and Chips - most excellent fish and chips, and only a stone's throw from the carriage.
The Cinnamon Tree - Hayle, TR27 4DX - Tel: 01736 759171 - Indian. Open: 5pm-11pm.
Curry Leaf Restaurant - Hayle, TR27 4BQ - Tel: 01736 755300 - Licensed restaurant with Indian & Thai cuisine and takeaway.
Hayle Kebab House - Hayle, TR27 4DX - Tel: 01736 756096 Kebabs. Offers a delivery service. Open: Mon-Sat 4.30pm-late.
Sea Pearl Gardens - Hayle, TR27 4EA - Tel: 01736 755245 - Chinese & English foods. Open: 5.30pm-11.30pm.
Thai Chef - Hayle, TR27 4DY - Tel: 01736 757671 - Authentic Thai food. Bring your own wine. Takeaway available.
Hubbard's Fish & Chips, Hayle, TR27 4BQ - Tel: 01736 753710 - Just along Penpol road, opposite the harbour. Open: Tues-Sat 11.45am-1.30pm & 4.45pm-7.30pm. Closed Sun-Mon.


Pasty Shops
Hampson's - Hayle, TR27 4AB - Tel 01736 752427: - Also sells cooked meats, deli, pies, etc.
Warren's - Hayle, TR27 4AB - Tel: 01736 752261 - Also sells bread, cakes.
Philp's Bakery - another excellent pasty maker in Hayle, just along the river front towards the beaches.
Farm Shops, Farmers Markets and Delivery Services
Bill & Flo's, Lelant, St.Ives, TR26 3EZ - Tel: 01736 798885 - Vegetables, salads and plants, with local meats, cheese, honey, cider and apple juice. Daily from 10.00am.
Callestick Farm, Truro, TR4 9LL - Tel: 01872 573126 - Luxury Ice Cream made on the farm. Farm tea-room and shop. From Easter Monday - Friday 10.00am - 18.00pm Sat & Sun. 12.00 noon - 18.00pm.
Truro Open Market, Truro - Tel: 01326 376244 - Every Wednesday and Saturday from 09.00 to 16:00 on Lemon Quay Piazza.

A Year of the best Cornish Food
January - It's wassail time, so we'd like to draw your attention to Kerensa Aval - or Apple Valley in Cornish. Small non sprayed apple juice with nothing added, made from old Cornish varieties. If you're wondering what the taste is like, we think it's fabulous, but you can find out for yourself when staying in one of our carriages, as we always provide a complimentary bottle for you to enjoy during your stay.

February - Whilst you're cosy and warm enjoying your short break in a centrally heated railway carriage spare some thought to the Cornish fishermen battling the waves to bring in the finest fish. What better place to buy them than from the Pengelly's (01503 262246) - Rick Stein recommended and rightly so, the fish here is the best. And the classic accompaniment to baked mackerel or home made crab cakes? Well my money's definitely on The Cornish Chilli Company's sweet chilli sauce. You can even order on-line and enjoy that taste of Cornwall before you arrive!

March - Will it be exhilaratingly bracing and wild, or will there be glorious sunshine to accompany the lovely spring flowers? Whatever the weather you'll want to tuck up with some comfort foods. We like to welcome our guests with Furniss Biscuits Cornish Fairings, which are made to a traditional recipe dating back to 1886 and have been favourites in Cornwall and beyond for over a century. All the biscuits from this Cornish company, from Fairings to shortbread, use the finest quality local ingredients wherever possible, such as Cornish clotted cream and butter, exactly as they would have done over 100 years ago.

April - If you haven't enjoyed a short break in the winter, you'll certainly want a holiday in April, when the hedgerows are springing to life, the tulips are out and Eden in bloom is at its bloomiest. And who better to organise all your food needs than Nick Barclay of Food 4 My Holiday, who'll make sure all your Cornish goodies and store-cupboard favourites are waiting for you in the fridge and cupboards when you arrive.

May - It's barbecue time, and time to crack open a beer and enjoy the garden. We love the ales produced by organic Atlantic Brewery so much that we put them in our guests' welcome pack. Just throw the bottle in our recycling bin when it's empty!

June - The sun is at its zenith, and you'll be looking for something to cool down when you arrive back hot and sandy from the beach. We love the organic ice cream that Roskilly's make, whose small fields have been farmed in a sustainable way for generations. You may not get round to visiting the farm during your stay, but their ice cream and yoghurts are available all over the county, from Downderry to St Ives.

July - The apples will be budding up, the strawberries and summer fruits will be being harvested, and who knows, perhaps we'll be enjoying our first blackberry. One things for sure, they'll be busy at Healey's Cornish Cyder Farm. We always supply a chilled bottle of their Cornish fruit wine in our carriages, as we find its refreshing and fruity flavour captures the Cornish summer whatever the season.

August - From this month on it's festival time! The highlight for August is Newlyn Fish Festival celebrating the Cornish fish industry in the surroundings of Cornwall's biggest port. Expect lots of other Cornish treats, from music and street entertainment to cottage industry clothing stalls and plenty of people!

September - On the heel of Newlyn's festival comes Newquay Fish Festival and Cornwall Food and Drink Festival. To quote from Newquay Festival; The practical cookery demonstrations by local chefs are undoubtedly the highlight of the festival, with hotels and restaurants being able to promote local fresh fish and shellfish and locally available produce. The Cornwall festival is held over three days on Lemon Quay in Truro - and with great public transport links to all three of the above mentioned festivals (and the one below), we're confident our guests will be able to enjoy them without the headache of traffic jams at each end of the day.

October Yes, yet another festival - we've certainly got lots to celebrate on the food and drink front in Cornwall! This time it's shellfish, in the shape of Falmouth Oyster Festival as Falmouth celebrates the start of the oyster dredging season, the diversity and quality of Cornish Seafood and in particular, one of the last remaining traditional oyster fisheries, dredging by sail and hand punt

November - Of course the food site of this month has to be Taste of the West Cotehele Food Festival - an annual event, usually on the 3rd weekend of the month, and a chance to see the magnificent floral garland in place.

December What a lot of festivals! And to make light work of our own festivities, we'd recommend splashing out on a Cornish hamper from Purely Cornish and indulging your friends and families with the tastiest Cornish cheeses, chutneys and fairtrade Cornish chocolate.

Have you a web site that would interest visitors to our site? If so then we would be pleased to set up a reciprocal link with you. Click on this email link: Links@railholiday.co.uk.
Back to TOP

Contact Railholiday by email at office@railholiday.co.uk or by phone on (+44) 01503 230783. ©